The fall is here – and so is the new release of AfHo/ Tribal House Party: #18 – Free FALLin'
Which means that it's also time to present a new instructor of the month for you guys.
This time we'll do it in english – since the person of the hour is non the less than Ms Kristin Mioskie, or Kris – from NYC.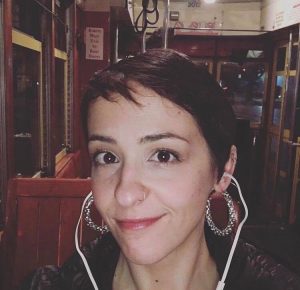 Kris took part in the very first instructor training we did in NYC in September 2017 – and then she joined the second training in December as well – but this time to assist Åsa.
She is a phenomenal dancer and a very sweet and humble person – yet confident in being a rockstar, and the AfHo-team is both excited and proud to have her as one of our spokes person and ambassadors for the brand in New York City.
Kris – that originally come from Pennsylvania – is now rocking New York City where she work as a group fitness instructor at Crunch gym.
She teaches Tribal House Party by AfHo at
Tuesdays, 7.15 pm Crunch FiDi –  @crunchfidi
Saturdays 10.30 am Crunch Union Sq  – @crunchunionsq
On instagram her name is @kristhepartystarter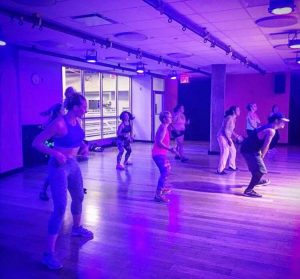 – You were one of the very first instructors in NYC to teach Tribal House Party  – and to launch it as a new class. Can you tell us a bit about that – How did the members like it? 
– The members love the intense cardio of the class and the fun party atmosphere. Most members do not know what house dancing is or looks like so it's taking a bit of time for people to try it but they always leave having a fun experience 🙂
– What is your best advice to a person/member that love to dance – but not quite have had the confident to enter the group fitness studio just yet?
 – For someone who loves to dance but not is ready for the studio – YouTube and CrunchLive!
So many broken down workouts and dance combinations to give a try at home and build some familiarity and confidence
[Editors note:
Also – that's where the benefits of pre choreography in Tribal House Party kicks in
One year is divided in to three different periods and releases.
It's enough material and choreography to make it alive, interesting and challenging – but it's also enough time and opportunity to make the participants get familiar with  the different blocks.
As a beginner on the dance floor you can put your energy and focus to learn the different blocks and the feel and vibes of them – and as a more experienced dancer you can put your energy and focus in the details and the performance]
– Do you think the dance culture in the group fitness world have changed over the years – or what is your opinion about that?
 – Yes, in the dance group fitness industry, there is a larger variety of classes today.
More choices of styles and levels to spice up your workout routine
I love teaching Tribal House Party with ny friends and coworkers – every class is a fun throwdown
Thank you so much Kris for being so awesome and such a great Tribal House Party Role Model – both in how to teach it and how to dance it <3
Keep the hard work and ambition up